CO State Hwy 9 Project – Phase 1 Monitoring Report
During the early stages of the CO State Highway 9 Safety Project, when the design was still in progress and funding was uncertain, monitoring data provided critical evidence that the project was necessary, important, and urgent.  As the project was approved and moved toward construction, monitoring continued to support the significance of the project to stakeholders and the public.  After completion of the first phase of construction in 2015, monitoring cameras documented multiple wildlife species using the crossing structures despite continued skepticism as to their effectiveness.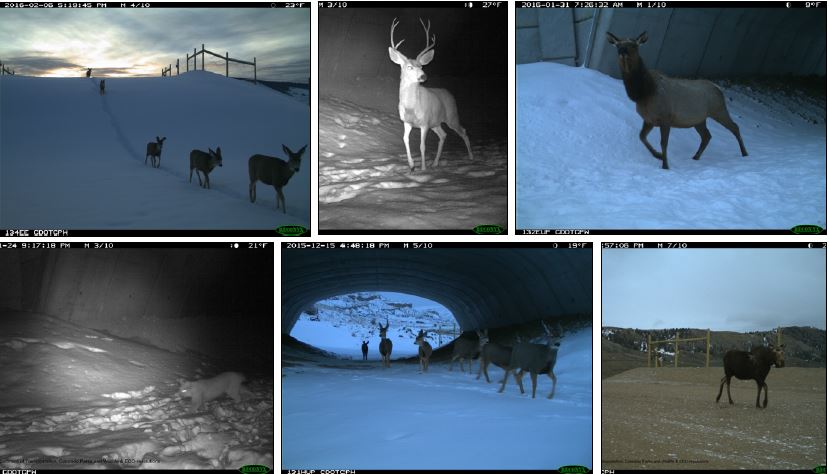 Seeing is believing, however.  The pictures and data gathered through the monitoring program are summarized in the recently released Phase 1 Pre-completion Monitoring Report prepared by ECO-Resolutions, of Golden, Colorado (see below for the download).  The report highlights differences between the completed (Phase 1) northern portion of the project area, including 3 of the 5 underpasses and 1 of the 2 overpasses, and the incomplete (Phase 2) southern portion of the project.  Covering mainly the four-month period from December of 2015 through March of 2016, the report includes researchers from CO Parks & Wildlife, CO Department of Transportation, US Fish and Wildlife, and ECO-Resolutions.  A few highlights of the report:
Cameras recorded over 7,000 mule deer movements, with a crossing success rate ranging from 82% on one of the underpasses to 98% on the North Overpass
In addition to mule deer, cameras also documented elk, moose, bobcat, coyote and red fox using the crossing structures, as well as various small mammals and birds
Wildlife-vehicle collision data showed a big reduction in the number of wildlife killed in the Phase 1 area: From an average of 31 killed pre-construction to only 3 post-construction carcasses for the winter of 2015/16
Comparisons of the number of wildlife-vehicle collision carcasses from pre-construction (blue bars in the chart below) and post Phase 1 construction (yellow bars) show a dramatic reduction in wildlife killed, and a striking difference between the completed (Phase 1) and incomplete (Phase 2) portions of the project.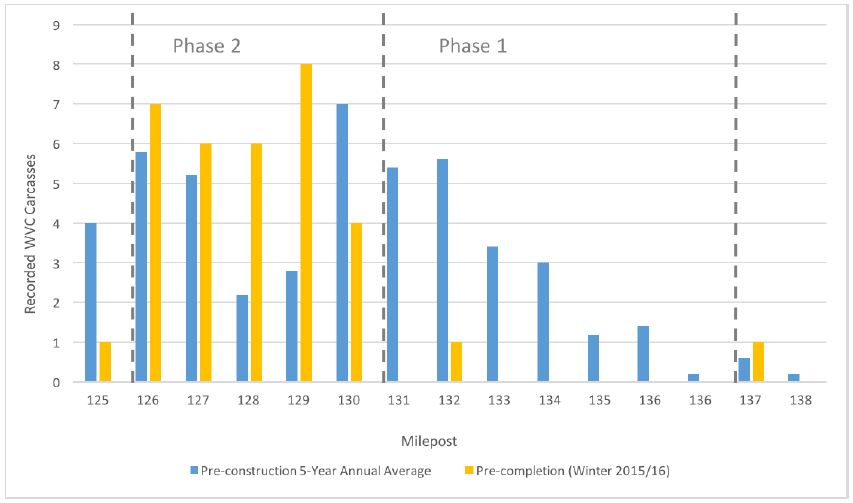 Now that the second phase of construction has been completed, the cameras are still in place, and research is scheduled to continue through 2020.  We eagerly look forward to even more impressive results in the next few years.

Downloads

SH9 Wildlife Monitoring Winter 2016 Progress Report (PDF)

Tags: Highway 9, monitoring, overpass, wildlife